In 2013, Gilbert wheeled through our doors and became a client of AAM.
A man of many talents, a quirky sense of humour, and an uncommon sense of optimism.
Quite unexpected for a wheelchair-using individual, you would think.
I mean, here he was, a tetraplegic (categorised as severely paralysed).
Yet, here he was, radiating positive energy, flashing his infectious smile, eager to take his investment goals to the next level.
The truth is, the Gilbert we met was quite different from the Gilbert before the paralysis.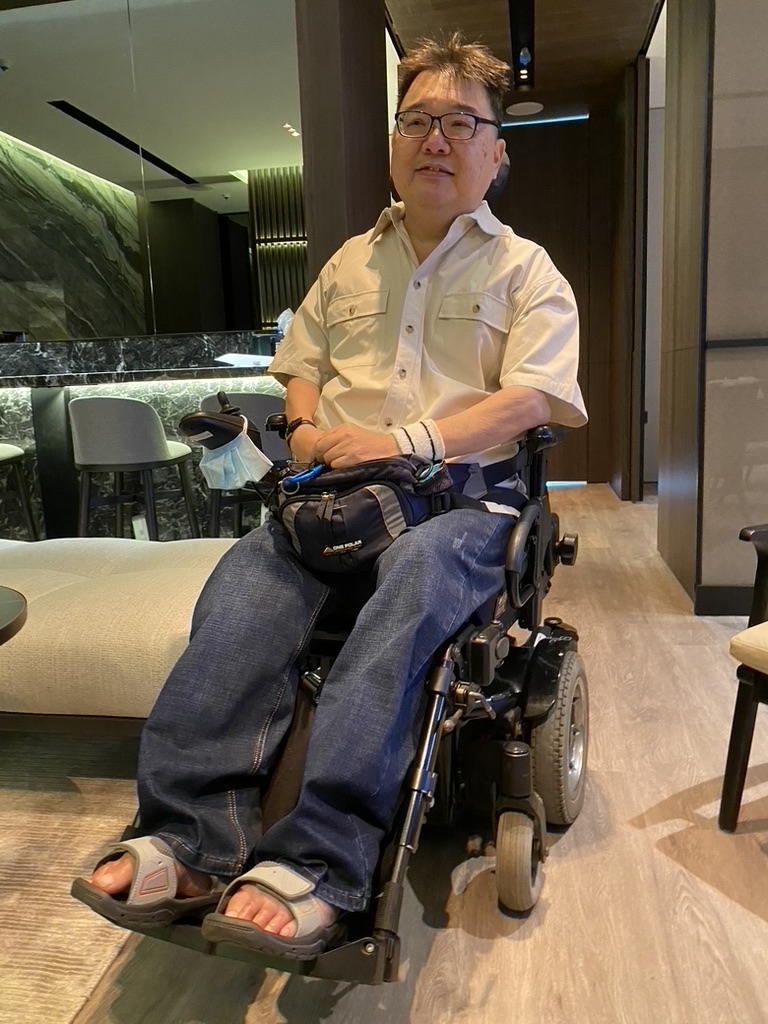 Growing up, life was not all fun and games.
While other kids were happily playing in the void deck or the padang, Gilbert's after-school activity was work – helping 'Ma' at her stall in Serangoon Gardens, while 'Pa' drove a taxi.
His task? To chop chilli, cut up pork (for the kuey teow soup) and wash plates.
And what little money he made, he faithfully saved, forgoing life's little luxuries.
So, you can imagine his joy whenever he received gifts – like the hand-me-down clothes from his Uncle – it was as though Christmas and Chinese New Year had come early!
Because he was busy helping the family, studies came second.
If you ask Gilbert, he would be first to admit, "I wasn't great in school, quite the average student, who just got by".
Yet, he had a creative side, with a special love for literature and music, no less.
After trudging through secondary school and achieving average 'O' Level grades, Gilbert earned a place in Singapore Polytechnic.
Here, he attended night classes in building drafting, with the hope of being a carpenter some day.
At the same time he was working as an apprentice draughtsman in Hitachi, designing lifts.
However, after two years into the course, Gilbert realised, even with a diploma, he would probably earn less than what he was getting at his job.
So, he gave it up and switched to Draughtsmanship. A qualification that worked well for him at Hitachi.
The swan dive that caused his life to nosedive.
Life at present was pretty good for the 22 year old Gilbert. He enjoyed his job, he had a good income and made lots of friends.
So, one day in 1983, because of this bond with his colleagues, he joined them for an outing to Delta Sports Complex in Bukit Merah.
It was here, while attempting a playful dive in the shallow end of the pool, tragedy struck.
His impact in the 1.8 metre deep section, broke his neck!
The prognosis was not good – it was discovered Gilbert was now paralysed from the chest down with complete loss of finger movement!
It was a grim 3-month hospital stay. Each day, as challenging as the previous one.
After completing his stay, his discharge was made worse by the rehabilitation doctor's uninspiring words, "You will probably only live for another 5 years!"
Imagine what went through Gilbert's mind, "Way to go Doc, what a ray of sunshine, you are!"
And then, the road ahead became dark.
Once home, things weren't any better. Everyone's lives were turned upside down because of Gilbert's condition!
His family was in a disarray, his parents started quarrelling, and his two brothers had to figure out how to manage this disruption to their lives.
As for Gilbert, he was in a state of shock. He couldn't function on his own, he needed help with everything.
What's worse, he couldn't work anymore. What was he going to do for money?
The situation just compounded his depressive state and suicidal thoughts (before the accident, Gilbert had over 200 friends. Now, he shut everyone out, and was down to 20).
This life of uncertainty snail-paced painfully on for 3 whole years.
But through all of this, it was the word of God and his faith that gave him the strength and courage to go on.
"I cannot just exist…I refuse to surrender…I want to feel alive!", concluded Gilbert.
The fight back begins.
After some research, Gilbert realised he didn't want to consider the usual jobs open to the handicap – working in a packaging factory, earning around $300 a month!
He decided to look for another way out.
He started off by giving tuition. Later, he added designing Christmas cards to the list (a friend would illustrate the pictures, while he crafted the words).
In between, he accepted some copywriting assignments for extra income.
He also dabbled in small-scale marketing – brokering everything from bridal make-up to hairstyling to property.
But Gilbert was still not satisfied. So, he took an insurance exam, hoping to become an agent (he passed the test in just 20 minutes flat, on his first attempt)!
But due to the lack of mobility – which meant minimal client meet-ups – he only managed to secure 9 deals.
Not a great achievement, if one is thinking of being a successful insurance agent.
Music to his ears, and rhythm to his life.
Prior to the accident, Gilbert was also a qualified guitar teacher. Though he could no longer play the instrument, he could still read and compose music.
And that's what he did next. Compose Christian songs.
In 1990, his efforts resulted in a Christian album. With it in tow, he went from church to church to perform, he even managed to sell 6000 cassettes in the process!
Not bad for an unknown singer. Considering how lucrative it was, he went on to produce a 2nd and 3rd album.
The income from these was not mind blowing, but they made enough to sustain him.
(Today, Gilbert is a member of the Composers and Authors Society of Singapore, he has written over 100 songs and produced 6 albums – one of his songs has even been pirated in Taiwan! He has also authored a book, Hospital Tales – detailing his hospital stay and some of the spooky things he encountered there).
Besides singing, Gilbert also started to give testimonies in the many churches he visited.
So well received were his sharings, they led to invites from offices, schools, community centres and many different institutions.
After each session, he would receive a 'red packet' for his efforts. He was now making a decent sum as Public Speaker as well.
Put your art where your mouth is.
6 years after the accident, Gilbert decided to expand his skillset even further.
He tried something few people in his condition would try – mouth painting.
He got pretty good at it, eventually designing Christmas cards on a regular basis.
So good was he, that his work was recognised by the Mouth & Foot Painting Association, based in Liechtenstein.
This gig started to turn things around for Gilbert. He was now earning enough via a stipend from the Association, and from earnings he received from the sale of his paintings.
It took him 12 long years to get his life back on track. But the struggle was worth it, as he was now able to hire an Indonesian domestic helper to take care of him and the family!
If that isn't impressive, we don't know what is!
Gilbert takes on another challenge. The world of investing.
As time passed, Gilbert realised his parents weren't getting any younger, he wanted to make sure he could take care of them, to say thank you for all their sacrifice.
It was then he decided to withdraw all his money from the CPF, a modest sum of $12, 000.
His plan was to use it to start investing, along with some savings, to grow the nest egg bigger.
Problem was, he knew nothing about investing.
So, he did the next best thing. He borrowed 10 books on investing from the local library and devoured them all!
Suffice to say, his initial foray into this world was not exactly a roaring success.
With his limited knowledge, poor advice from friends and family, he lost more than he made.
But after 3 years or so, things begin to settle. After 8 years, he started to make good money.
Yet, Gilbert was still not content. That was when he decided to give Unit Trust a go.
Sadly, it was a bad decision, because the broker assigned to him seemed to lose him money instead of make him money.
He eventually reverted to stock investments, to try and succeed on his own.
Over time, however, he came to this realisation – investing takes too much effort and time, just to make a fair amount of money.
Gilbert finds AAM's offer OUTRAGEOUS!
At this juncture, he was stumped as to how to move forward.
It was while doing some research on finding new ways, Gilbert came across an AAM advertisement, one with an unusual guarantee – AAM believes in zero management fees! We only accept payment when the client makes money! No profit for clients, no income for us!
Gilbert thought this was crazy, "I mean what kind of fund house was this, they must be insane to make such a promise!"
As crazy as it sounded, Gilbert was intrigued.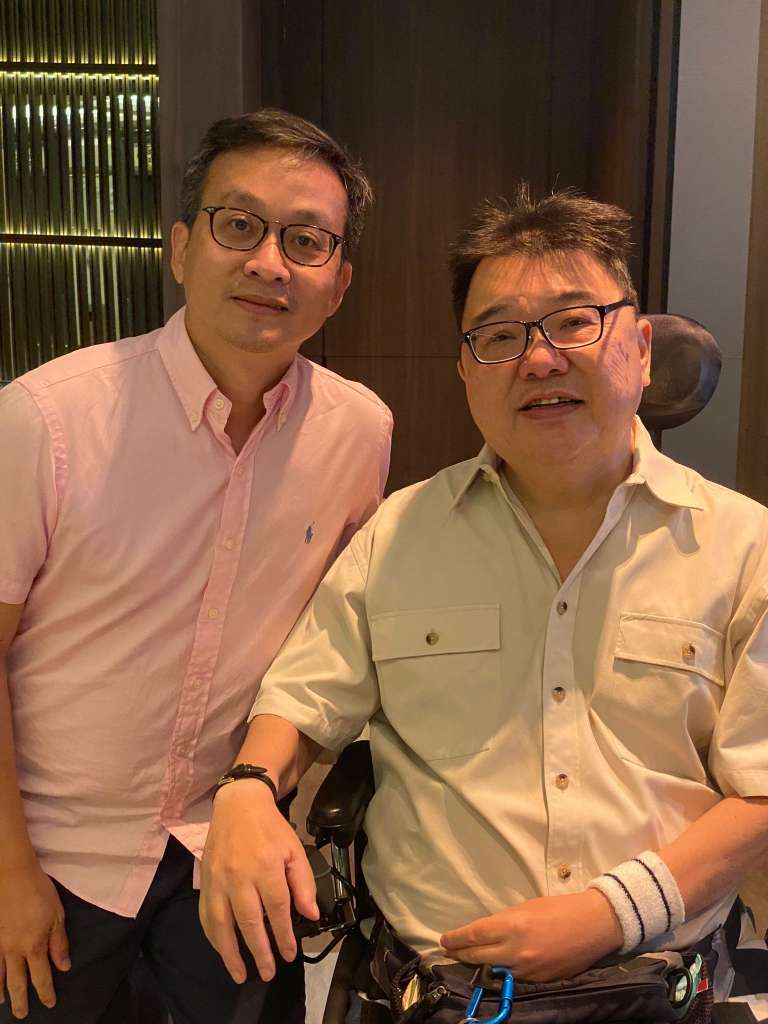 So, he called up and set up a meeting with our founding partner, Kevin Tok. The conversation was a good and fruitful one.
Gilbert thoroughly studied our approach – how we do what we do – diversification, price to book, price earning ratio and so on.
Once he was convinced, Gilbert Tan signed-up with us.
To date, we can confidently say we have made Gilbert a happy man, delivering an annual 8% growth in earnings!
His initial investment of $110 per share has grown to become $190 per share – an 80% increase!
If you're keen to explore investment options, contact us and request for an appointment.
We look forward to hearing from you, leading you to become an investing success, just like our dear Gilbert Tan.
And who knows, we may even be able to persuade this amazing man to share his story with you over a cup of coffee, so that you too maybe be inspired!
Just like how we were.