This is my boss/buddy/bro who co-founded Aggregate Asset Management, managing an AUM of S$600 mil using Machine Learning AI.
I have known him since NJC days and two non-reactive geeks just got along since then. Recently, he invited me to his home for dinner and I saw the grey plastic ugly looking chairs in his dinning room. One of which he used it as a programming chair when he codes his cutting-edge stock picking Machine Learning algorithm which has been featured in The Edge and has beaten Warren Buffett's Berkshire Hathaway's returns in the 1st Qtr of the contest plus other market indexes. (see here for more details)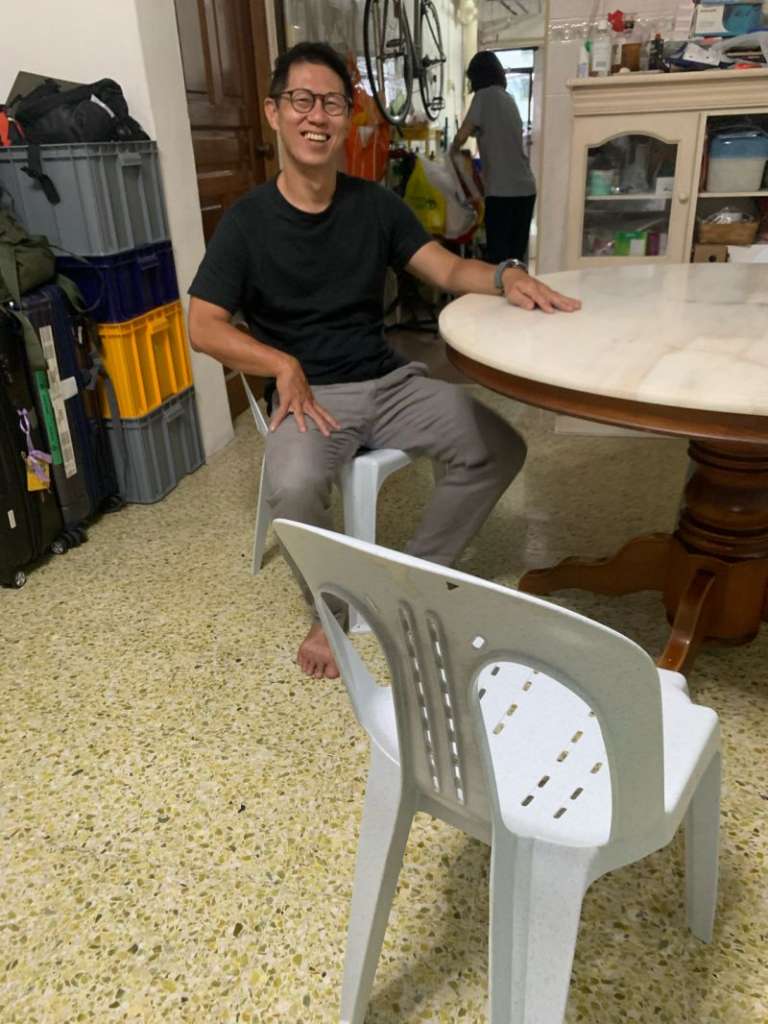 I impolitely asked what the heck were these chairs doing here.

He explained that these were discarded plastic chairs from the funeral company that did a wake at his HDB block's void deck. He just scrubbed off the funeral company logo and he saw no reason why he couldn't repurpose them.

I was horrified. Being Chinese and all that stuff about bad luck(chairs from a wake is like bringing death back home!!!!) and come on! He is a successful fund manager and coder, surely I could get him a better chair from IKEA? Or a second hand Herman Miller Aeron. What about a used chair from Carousell?

He laughed about it. He said there was no need. The funeral chair was fine. Besides it kept his body straight when he codes for hours.

Like they always say- when you are poor, you are mad. But when you are rich, you are eccentric.

I have known Eric for decades. Material things no longer matter to him. He is like a zen monk. He leads a minimalistic lifestyle. He doesn't care what you think about him. Every few years, he would do something jaw-dropping in whatever field he picks. Because his mind is on a higher functioning plane and not caught up with unimportant stuff like watches, bags, cars, golf, are you running in this year's marathon, LinkedIn, properties, how many As the kids score and what to eat for dinner.

There is no keeping up with the Joneses because he gets rid of you once you start bragging about what he considers inconsequential in his life. He is immensely polite and humble. He will not espouse his point of view. He just avoids seeing you the next time.

In the Matrix movie, the boy monk told Keanu Reeves there is no spoon. I think to Eric, a chair is a chair is a chair. There is no Herman Miller. No Ikea. No branded chair.

This is the power of mental clarity and in a paradoxical way, it attracts wealth, contentment, happiness and mind bogglingly, innovation!

Just think how happy his days are. He doesn't need to talk to corporate morons. Think about it.

And if you are his trusted client, do you feel safe letting him manage your hard-earned wealth? Think how they react when they see the funeral chairs. Do you trust the sea and the mountain being there for you? You get the point.

And I feel guilty staring at my Herman Miller Aeron in my home office. But nah… I have a weaker spine.