The Aggregate Value Fund (AVF) and Aggregate Global Equities Fund (AGEF) have exhibited positive growth in 2023, despite market fluctuations. In April, AVF achieved a YTD growth rate of 5.33%, while AGEF saw a slightly higher YTD growth rate of 5.39%.
It is noteworthy that AVF has demonstrated a remarkable Compound Annual Growth Rate (CAGR) of approximately 12.01% over a 3-year period from April 2020 to April 2023. The 40.84% growth rate of AVF over the past three years also outperforms the AC Asia Pacific by 31.17%. See tables below.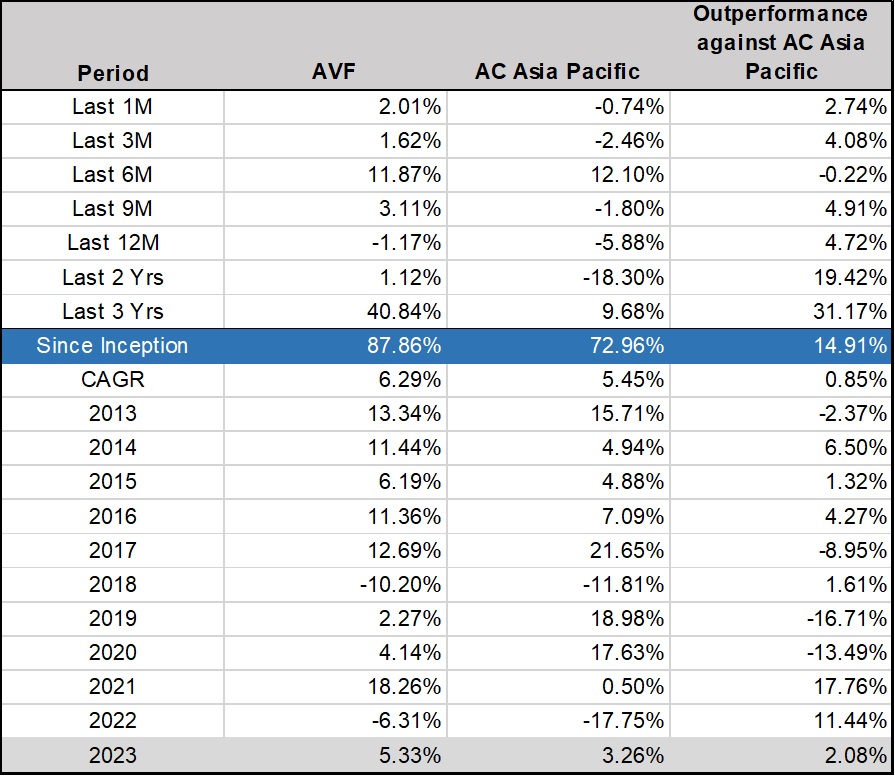 Refer to Performance for detailed reports.
The AVF offers investors a diverse portfolio invested in over 1,500 listed companies across 16 countries, aiming to provide long-term growth and stability. With a targeted compounded annual return of 8 to 10% over 5 years or more, the fund focuses on generating consistent and attractive returns. Additionally, the fund incorporates machine learning techniques to analyse vast amounts of data, uncover patterns, and discover potential investment opportunities that may have been missed through traditional methods alone. The combination of traditional value investing and machine learning techniques can provide a robust framework for investment decision-making.
Aggregate Asset Management has consistently demonstrated its ability to navigate the investment landscape by leveraging a combination of traditional value metrics and cutting-edge machine learning techniques. The impressive CAGR of the AVF showcases Aggregate Asset Management's track record of generating attractive returns over the long term. Its commitment to a medium to long-term investment approach further reinforces its dedication to delivering higher-than-market returns.
Interested to find out how AAM can offer you a viable investment option? Do get in touch with us.